Looking at the sneakers scene, one cannot ignore the impact that the Adidas Pharrell partnership has had. Since this creative collaboration started back in 2016, every adidas Pharrell design has stolen the spotlight from all other releases. And it's quite legitimate, who wouldn't want to wear some very colorful and very bright BOOST sneakers and help spread positive vibes and energy to everyone? The first Adidas Pharrell NMD test was a pair of "Friends and family" samples. Here, let's review with Storepc the important shoe models in the history of the times musician Pharrell Williams collaborated with Adidas.
Adidas Pharrell NMD Human Race
The first Adidas Pharrell sneakers were released to the public in yellow called the NMD Human Race. They were launched on July 22, 2016 and received a very warm welcome. This explains why the selling price has been ridiculously high so far.
NMD Hu Packs
This test release proved so successful that just 2 months later, even the Adidas Pharrell Hu NMD had dropped in price. On September 29, 2016, 5 distinct colorways of the NMD Human Race were released and that's when the adidas Pharrell legacy really began. This line of sneakers comes in Green, Red, Blue, Orange and Black colors, which are clearly the most valuable shoes for sneakerheads. The PrimeKnit section of these shoes showcases messages like Hu Race, Human Being and Human Species.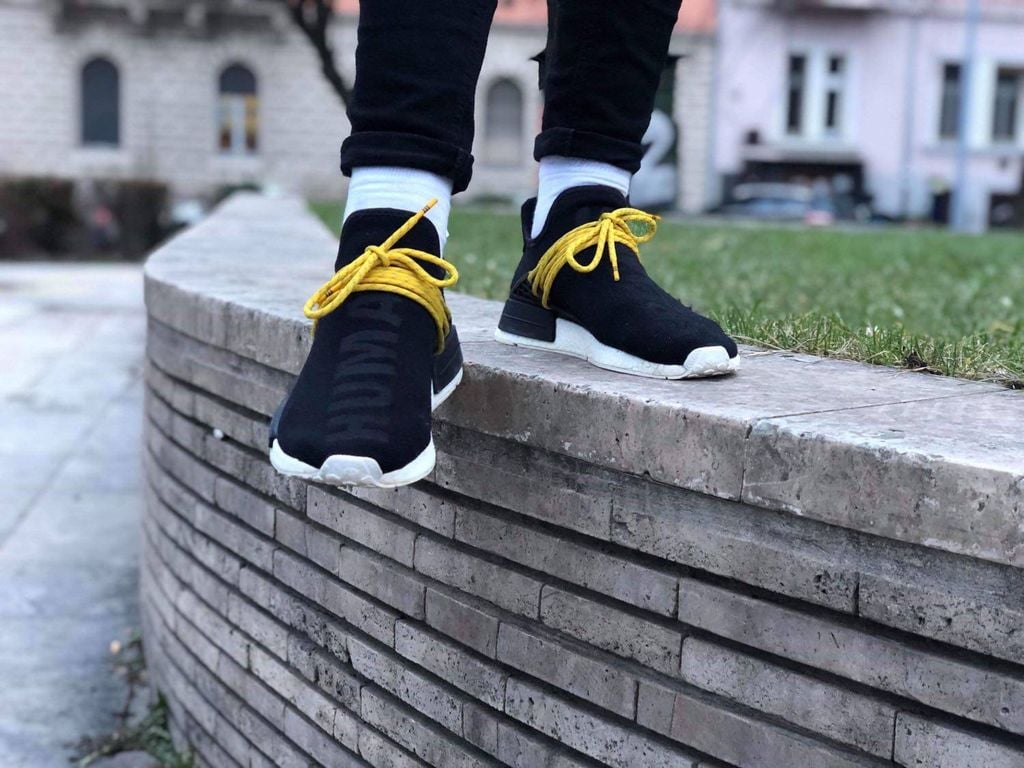 NMD Hu TR Hiking Collection
After that, it took Pharrell more than a year to release another line. On November 11, 2017, the Adidas Pharrell NMD Human Race called "Walking Collection" was released. This time it includes only 4 pairs, but each pair looks completely different as if it has its own personality. Teal and Oreo both have Moon and Cloud embroidery on their PrimeKnit. This Hiking-inspired collection also includes a three-layer jacket, vest, boxed windbreaker, cargo pants, hooded sweater, leggings, t-shirt, and vest.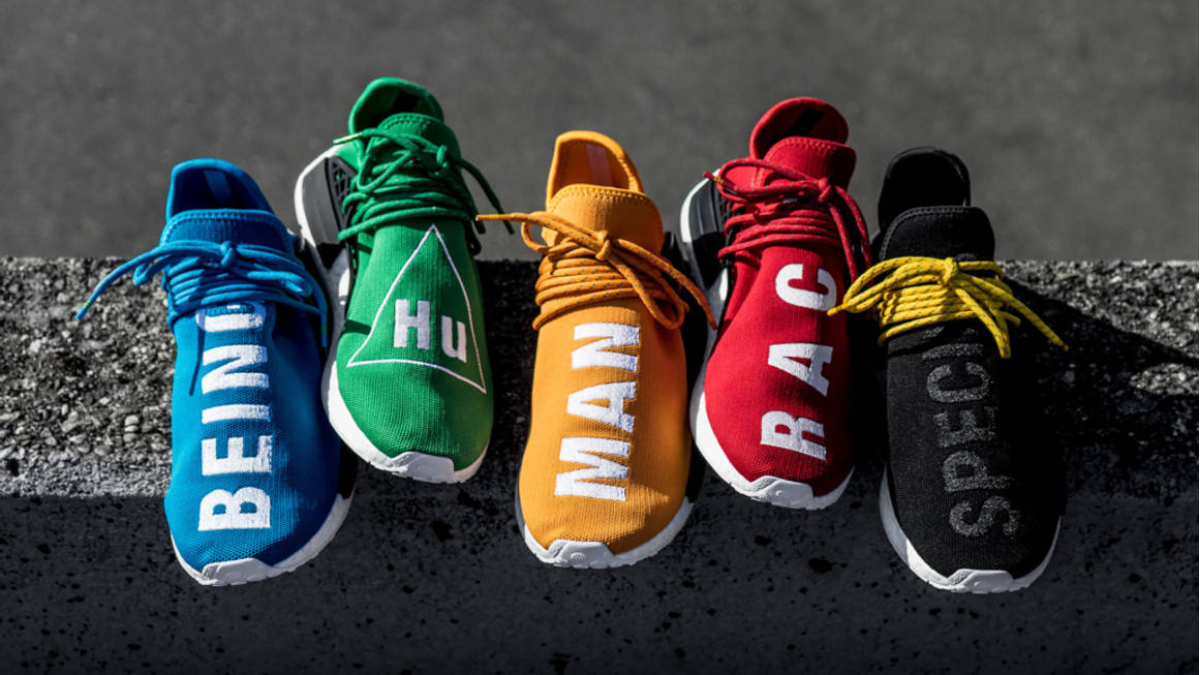 Culture-inspired Packs
Entering 2018, the partnership of Adidas Pharrell continued but took a completely new path. The patterns of the year all revolve around celebrating great nations and countries. First, it starts with NMD Holi celebrating India's Holi Festival. That collection includes 4 colors, White, Black, Pink and Coral. The collection is inspired by the second culture dedicated to China. It includes 3 colors green, red and blue. Another very fancy gold pair was also produced, but unfortunately, for F&F. A similar third Adidas Pharrell collection has been launched: the NMD Human Race Afro Pack, the Solar Pack includes 2 "official" pairs that relate to the rich African heritage.
Lots of exclusive releases!
Unlike the usual NMD Human Race pairs, Pharrell also co-created a few extremely exclusive and expensive versions. These include some Adidas Pharrell NMD NERD, BBC and Chanel retailing at $1160. The high exclusivity of these pairs makes them extremely valuable at resale. Buying a pair of this rare can start you at $1400 and go up to $7000.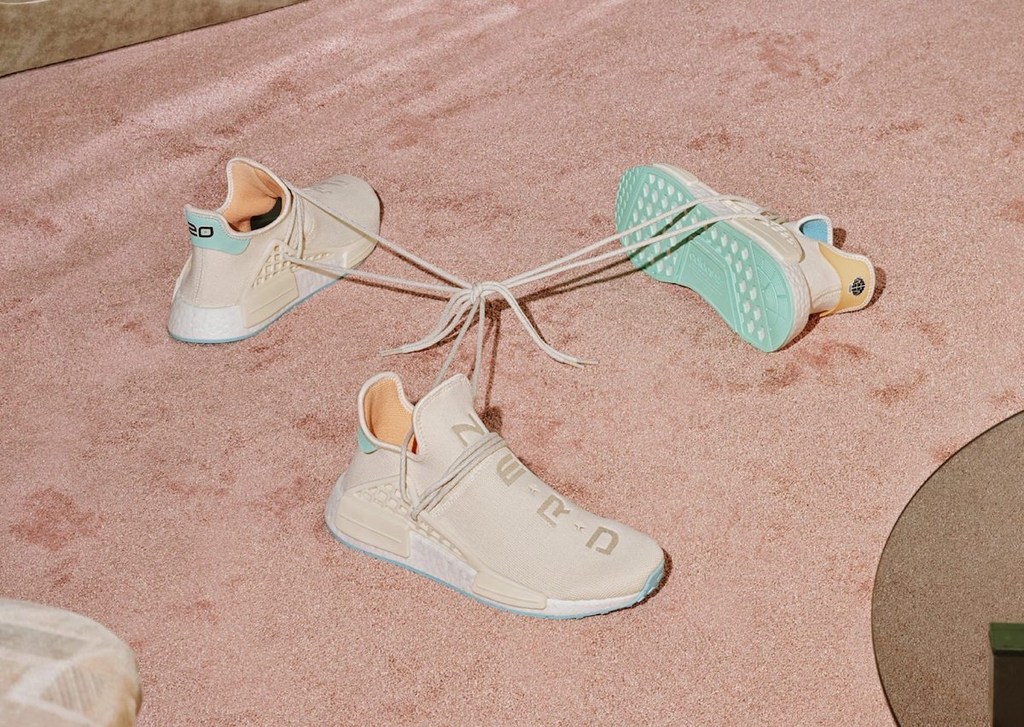 "Inspiration Pack"
As of November 2018, the Adidas Pharrell partnership is as strong as ever. The Inspiration Pack coming out on November 10th is just as colorful and vibrant as we expected! Each shoe is embroidered with Chinese characters that mean "Inspire" and "Empower". Pharrell definitely loves sending fans deep messages through all of these shoes!
"Now Is Her Time" Collection
"Now is the time for her to become powerful. Now it's her time to run the world. Now is her time to teach us all. Now it's time for her to level the playing field. Now is the time for her to stand up for her right to choose. Now is her moment." This is the message that Adidas Pharrell collab decided to send to the September 2019 collection "Now Is Her Time". These include the Solar Hu, the Crazy BYW X and the NMD that are sure to give women lots of color!
Human Race x Human Made
In October 2019, Adidas ventures out with a new collaboration, the limited edition Adidas Pharrell x Human Made collection. The collection includes an NMD Hu, Solar Hu, and Tennis Hu that have an all-white upper with a Human Made heart logo instead of the usual embroidery.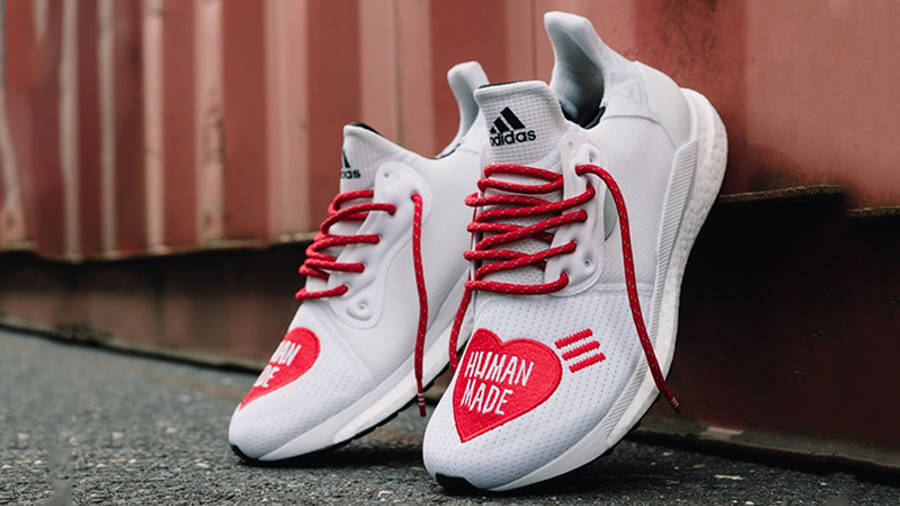 Off to The Multi-Dimensional World!
Some might argue that the 4D midsole is the future of sneakers. Why not? The Adidas Pharrell collaboration certainly thinks so. Their latest adventure into the multidimensional world of midsole sneakers has brought us two new pairs of 4D Runners! The shoes are really nice with purple and olive Primeknit and are sure to get a good response from the public!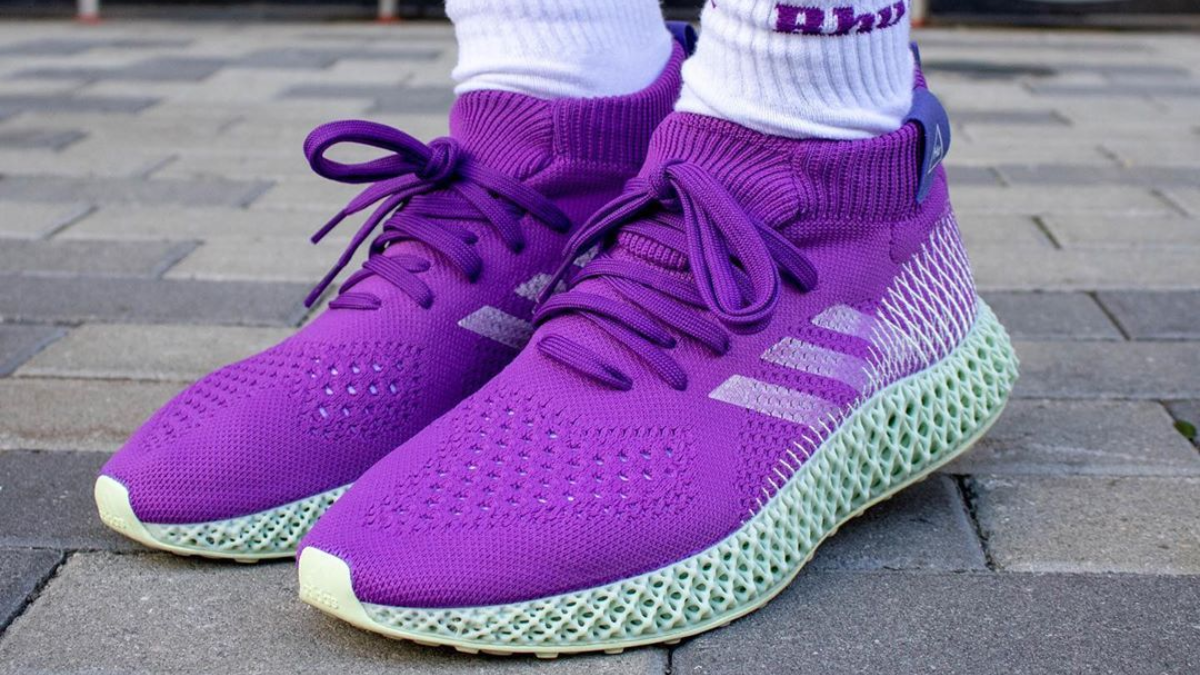 Adidas Pharrell Tennis Hu
In addition to his infamous Human Race, Williams has another collection that he continues to develop. The Adidas Pharrell Tennis Hu is another successful project between the musician and the Three Stripes Brand. While the Tennis Hus are not heavily advertised or limited, they are still a welcome addition to the family of sneakers. In fact, if you haven't caught on to PW NMDs, you still might have a chance to catch up on a color scheme you like by buying yourself the Tennis edition.
Adidas Pharrell Collab Goes Crazy
Besides the usual Pharrell NMD sneakers, the Adidas Pharrell collaboration has a very whimsical but equally important air of sneakers: The Crazy BYW. The two have reimagined Crazy's several times and come up with some ambitious Pink, Red, Black, White and Yellow colors that remind us a lot of Hot Dog. Also, not so long ago, a new pair of Adidas Pharrell Crazy 2.0 appeared. On March 2, 2020, the BYW 2.0 Hu was released in an interesting combination of Yellow, Coral and Purple and retails for $180.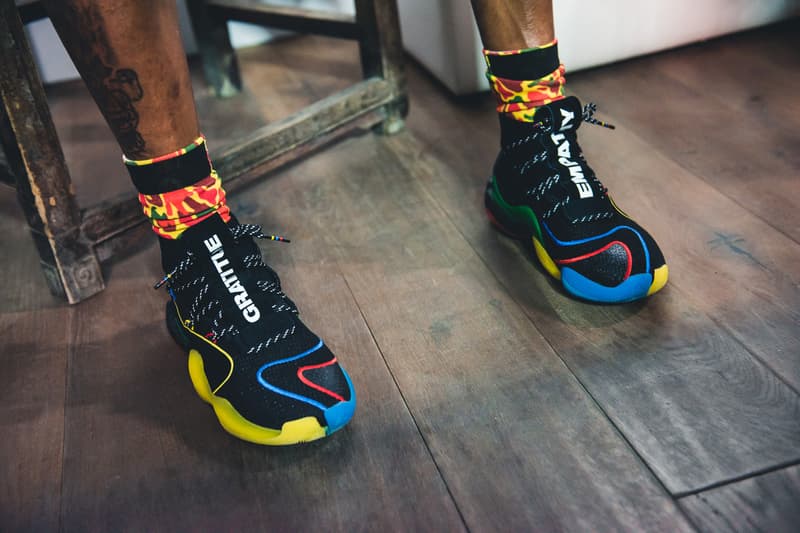 NMDs and more
Back in September 2019, the Adidas Pharrell NMD family has expanded exponentially. We are talking about more than 14 different pairs of Adidas Pharrell sneakers and the entire line of Adidas Hu slides. These versions address gender equality and the colors range from Vibrant Pink, 'Power Red' and 'Hi-Res Yellow', to 'Cream White' and 'Convenience Black',
As the numbers and fan reactions suggest, this partnership is far from over. In fact, it has only just begun. The shoe's unique design and its many elements have opened up hundreds of opportunities for a variety of styles and colors. The addition of the values ​​the shoe stands for makes the Adidas Pharrell partnership well worth a chance.
Read more: Pharrell Williams and his contributions to the culture…
10 Most Expensive Adidas NMD Models in History (Part 1)