Gucci handbags are one of the most luxurious handbag brands in the world. With an unparalleled heritage, a name that dominates the global fashion industry, and designs that have become mainstream, Gucci is more than just a fashion house. It is a symbol of luxury, sophistication, helping the owner of any product of the brand stand out from the crowd. In this article, with Storepc, let's find out the three hottest, elegant and popular Gucci bag models voted by fans as the Gucci bags that ladies must own.
Gucci Bamboo Bag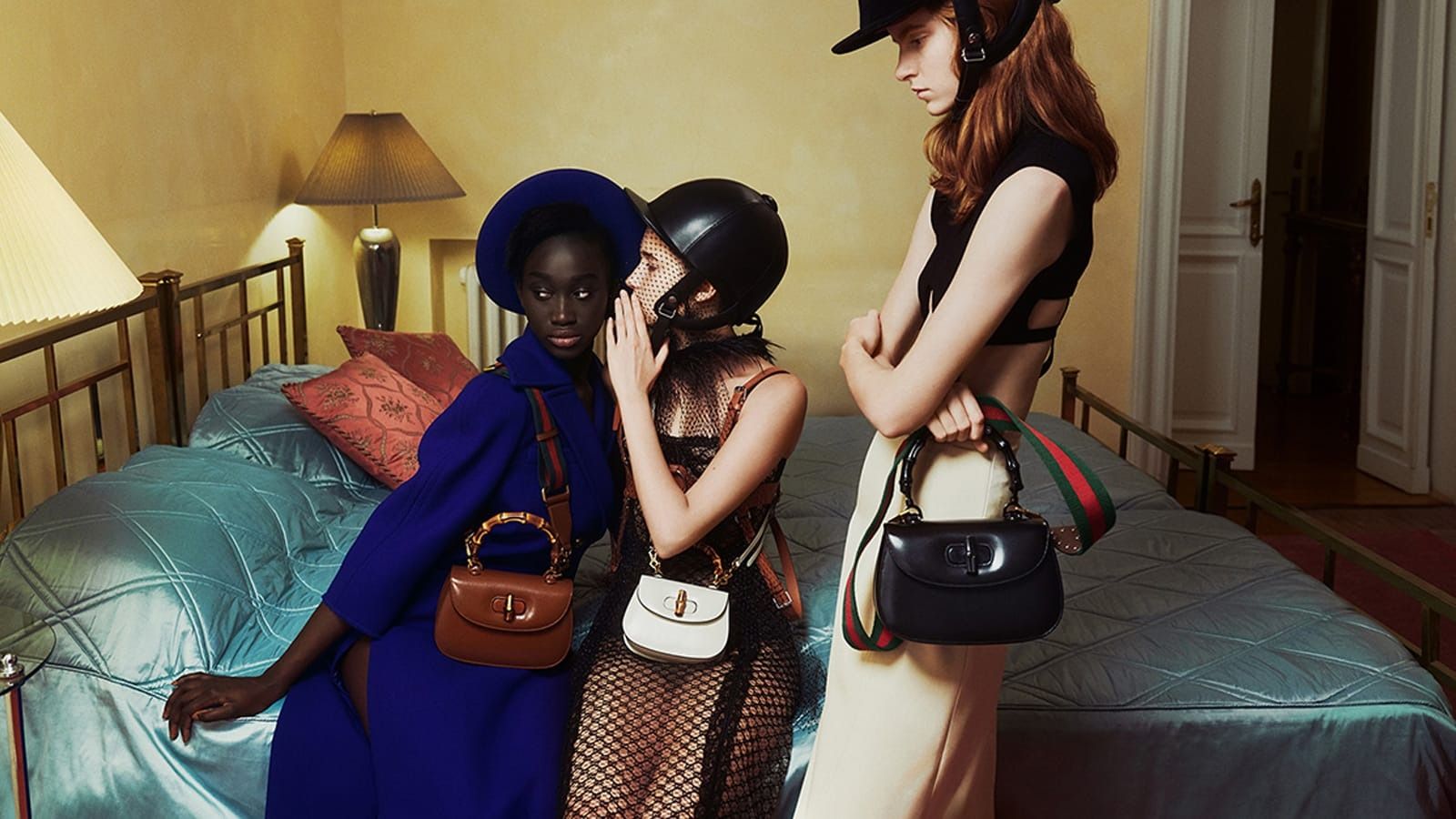 Each Gucci bag contains a sky of memories and nostalgia of history. In the post-war period of 1947, when it was difficult to buy raw materials, Guccio Gucci realized that using Japanese bamboo would be a more convenient option. It is easy to grow, easy to import, and can be molded into the desired shape, namely a handle. Later, the bag was renamed to Gucci Bamboo and quickly attracted the nobility and famous names Lady Di, Grace Kelly, Elizabeth Taylor,…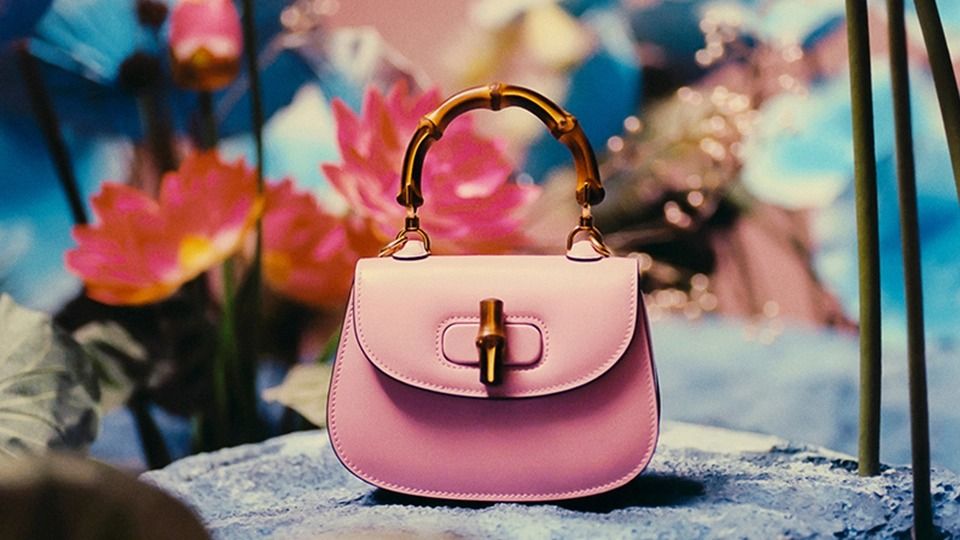 To create a Gucci Bamboo Bag, artisans have to go through heating an unblemished bamboo, giving it the right curve, and coating it with multiple layers of lacquer to achieve the perfect brown color that takes almost 13 hours. . That is why no two Gucci Bamboo Bags are exactly the same, but each handle will have relative differences in color, number of burns as well as unique size. Because of their uniqueness and uniqueness, Bamboo bags are always priced slightly higher than regular versions, limited designs cost up to hundreds of millions of dong.
Gucci Diana Bag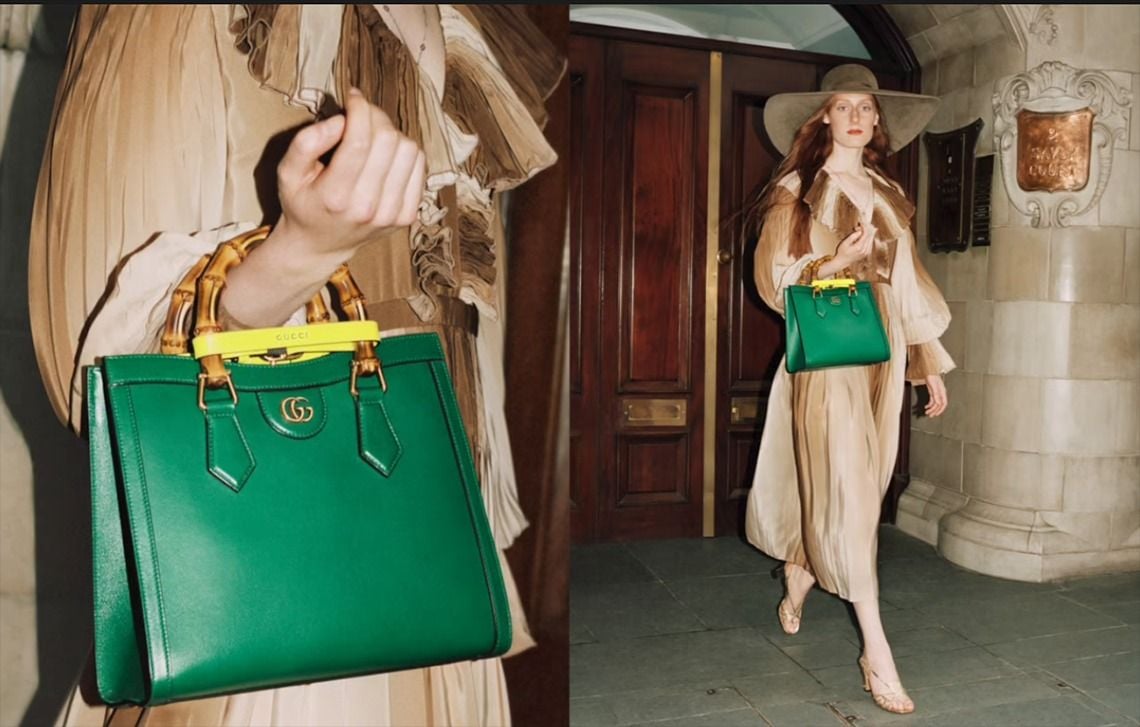 The bag named after the famous princess of the land of fog, released in 1991, has become Princess Diana's signature accessory as it symbolizes her confidence and free spirit. This is also one of the bags that witness a change in the career path of the Italian luxury fashion house. This version is also featured by a Bamboo handle but is attached with a fixed string to keep the bag form, different from the rest of the Bamboo bag models. In particular, being promoted by a fashion icon even this bag line was named after Princess Diana enough to show her far-reaching influence on the world fashion scene. The Gucci Diana Bag and Lady Dior both pay tribute to Diana, but Lady Dior is considered more elegant and Gucci Diana is bold lady, royal elegance.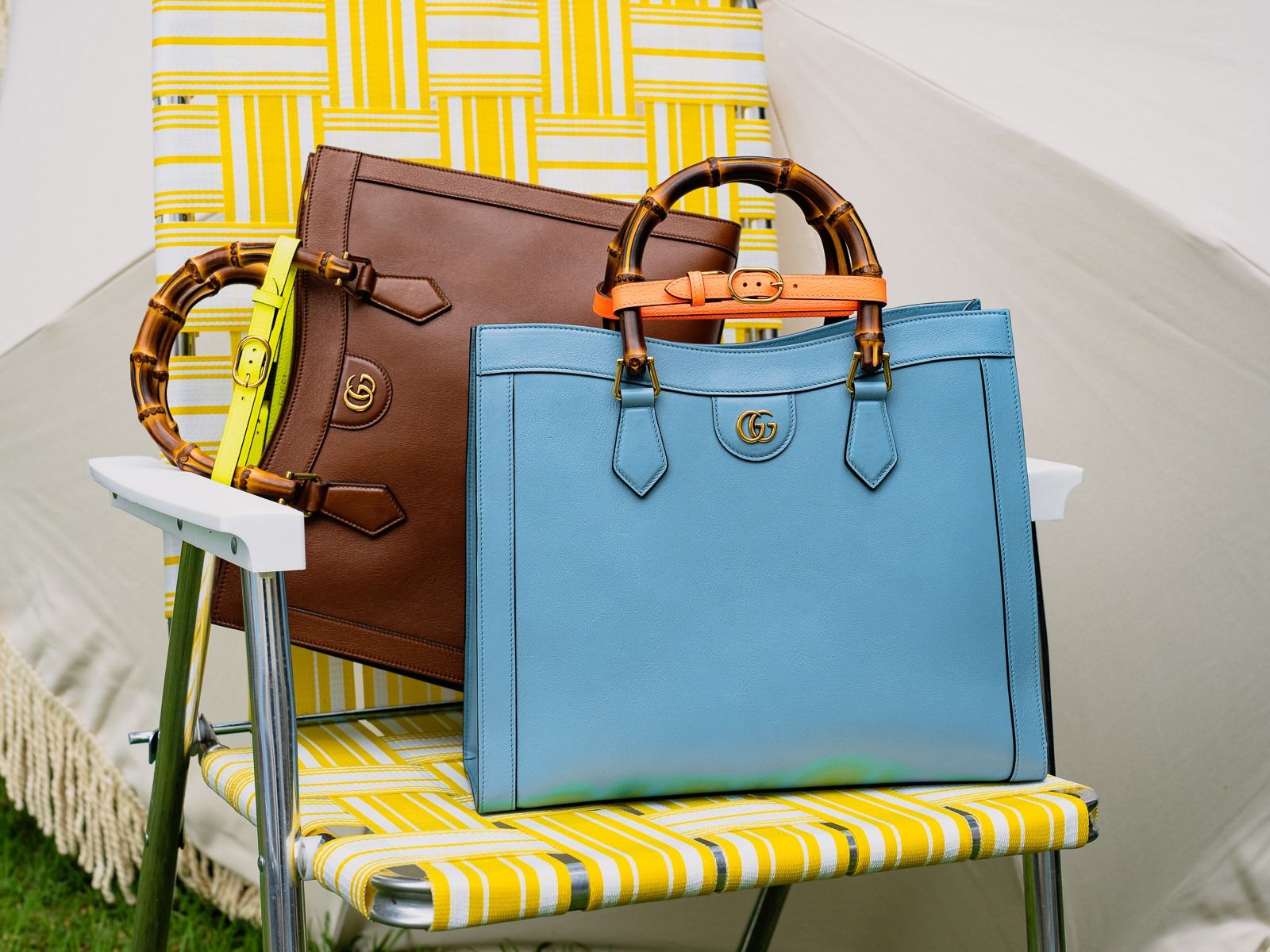 The original Gucci Diana was available in only seven colors and three sizes: mini, small and medium. The neon elastic bands come in yellow, pink, and orange colors with a double G logo on the front. The bag has always received love and affection from celebrities Sienna Miller, Alexa Chung, Rebecca Lim, etc. However, with constant development, Gucci has now developed its own line. This bag with collections is renewed every new year season.
Gucci Dionysus Bag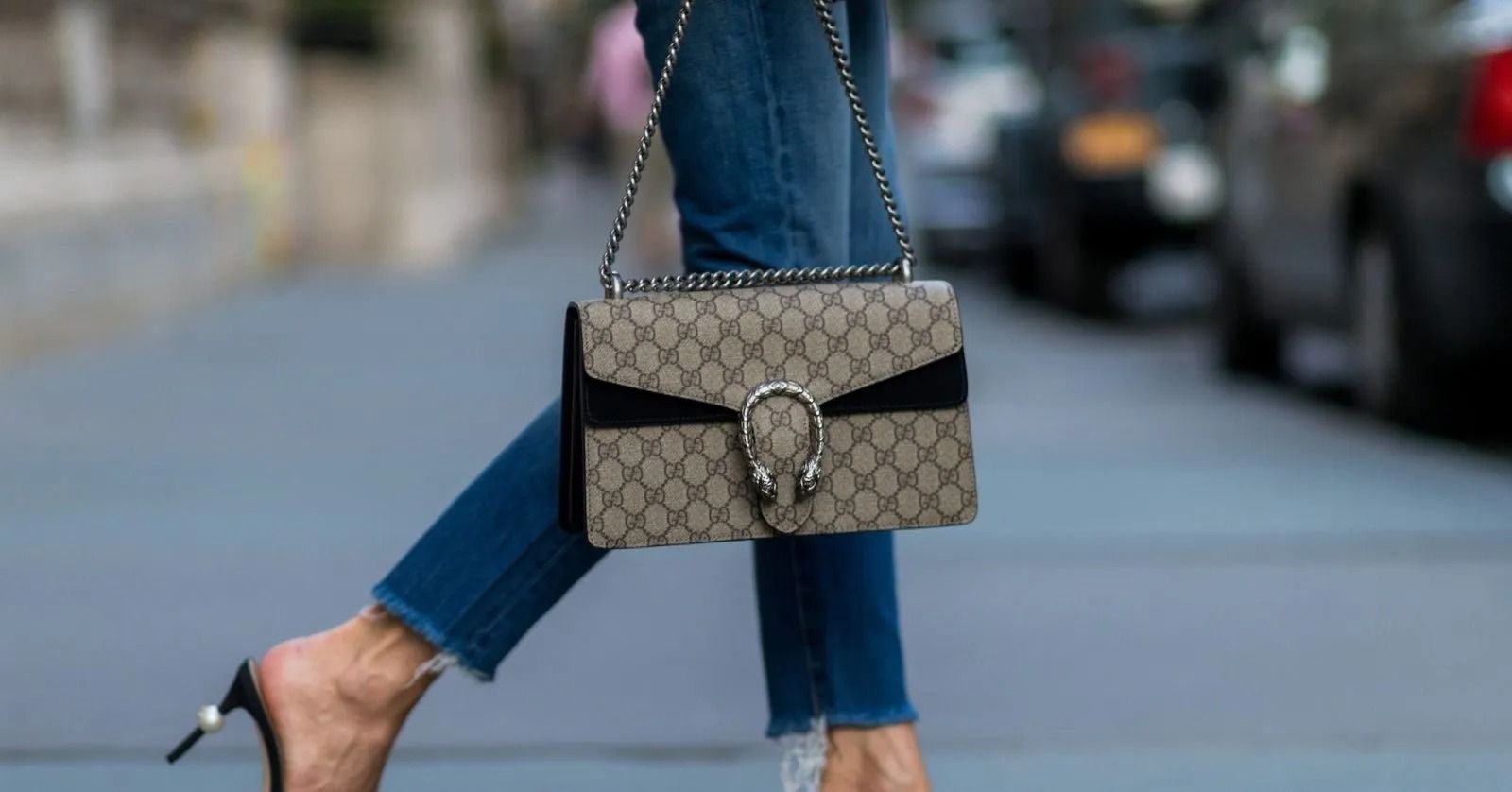 The bag is Alessandro Michele's first creation for Gucci as the brand's Creative Director. Although it was only released on the Ready-to-Wear Fall/Winter 2015 runway, it has quickly become an IT bag of the Italian brand.
Using high-quality GG Supreme canvas fabric with the brand's double G logo printed, the special feature that makes Dionysus's identity is the metal clasp that is often treated with a horseshoe-shaped neck with two tiger heads. It is a tribute to the Greek god Dionysus, who, according to legend, rode a chariot drawn by tigers across a river that later changed its name to Tigris. Real fake fake and the symbol of two tiger heads also born from that. This Dionysus icon shows the profound influence of Greek culture on Gucci as well as its influence on world fashion.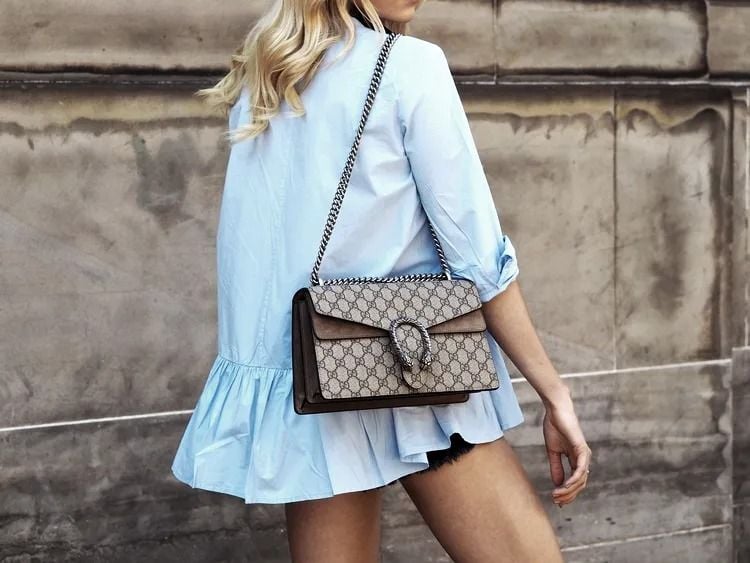 Until now, this is still one of the classic bags of the company, luxurious, personality and a little bit of a mystery. The Dionysus motif is also modified when attaching stones, diamonds or using Gucci's signature text and graphic motifs such as bees or stars, …
It can be said that if you are new to the brand name, Gucci is always the first choice because of its versatility, identity and outstanding product quality. Above are suggestions from Storepc, hope our ladies will find a design for themselves. And if you still have a lot of doubts, continue to follow the next content articles to be able to update the fastest fashion information, especially about luxury products!
Besides, don't forget to check out: Gucci's unique show at Milan Fashion Week